Slime fundraising events! Making philanthropy fun!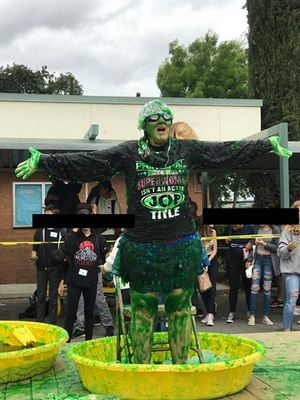 Slime the Teachers - Slime the Principal - Slime your Boss!
Slime events are a super fun and very lucrative way to raise money! 
Think about it. What kid do you know that wouldn't love to dump a bucket of gooey, slippery, slime all over their parent or teacher's heads?
With a little bit of creativity and a few bags of Slimee™ Instant Slime, you'll be raising funds in no time, for whatever the cause may be.
How to raise money using slime?
There are many different types of slime events that you could host to raise money, including slime fun runs, slime bomb fights, slime slides, slime dunk tanks, slime balloon pop target games and many more. Click the links for more information on these ideas. Probably the easiest and simplest idea however is what we refer to as a slime dump (see below).
What is a Slime Dump fundraiser?
A slime dump fundraiser is where participants set out to raise a certain amount of money in order to win the joy of dumping a bucket of slime on a certain someone's head. For example, a school could ask teachers to volunteer. They then set class targets. Every class that is able to raise X amount of dollars wins the hilarious prize of dumping a bucket of slime on their teacher's head. Individual incentives can be added whereby the largest fundraiser in each class wins the honor of tipping the bucket of slime on the teacher. The class that raises the most money at the school may gain the extra incentive of dumping a bucket of gooey, runny, slime on the Principal, Headmaster or Dean's Head.
What do I need for a slime dump fundraiser?